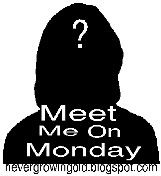 1. What is your favorite kind of fudge?
hmmm... My favorite kind of fudge is the fudge that Grandma Rose makes! :)
2. Is there snow outside your window?
YEP... A heck of a lot of snow!
3. What is your favorite meal of the day?
I have to eat breakfast every day! I love it! But i do love dinner with my family better! :)
4. Do you text on your cell phone?
I text every day! :)
5. Waffles or pancakes?
Tough one, if my waffle can have strawberries and whip cream, but pancakes and syrup if I want to be quicker when cooking at home.