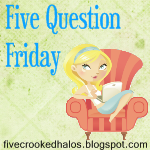 1. H
ave you ever forgotten your child in a store or at school?
No, and I pray I never do!
2.
Where did you go on your very first date? (Like...first first, not first with your spouse or current significant other!)
A Junior high school dance!
3.
What's your "silly" fear?
(We're not talking water and heights.)
I am afraid of bats! I have hidden under my husbands shirt (while its still on him) LOL! I just have a fear of them getting in my hair!
4.
Confrontation: do you cause it, deal with is as it comes, or run far far away?
Depends on the day, some days deal with it other days avoid it!
5.
Wood floors or carpet?
My preference would be: Carpet in bedrooms, wood in living room!