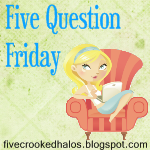 1. Have you ever testified in court? For what?
I have been subpoenaed, but then they called and cancelled my appearance.
2. Do you still have your wedding dress?
3. Is there a special place you like to go when you're happy, sad, stressed, etc.?
4. If you have kids, do they sleep with you? If you don't have kids...will you let your kids sleep with you when/if you have them?
I will let my daughter come cuddle in bed with me when she wakes up in the morning but not sleep the whole night with us.
5.
Do you watch late night TV?