I am excited to have a guest post from: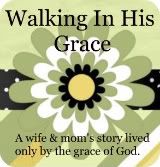 Make sure you check her blog out! I LOVE HER BLOG!
My birth story could probably take about two hours for me to tell, because I like to give every last detail. I'll do my best not to take that long! :)


My first daughter Constance Elizabeth was born when I was 39 weeks pregnant. My husband Joshua had been scheduled for mandatory overtime, which meant he had to go in at 3 in the morning that day. I had my first contraction a little bit after he left for work, but I just told myself it was braxton hicks. My doctor had stripped my membranes the day before, so while I knew labor was a possibility, I guess I just didn't really think it would work for me. I began to drift off to sleep that morning as I felt another contraction, but I still told myself that it was no big deal. Five minutes later I had another one. They began to feel worse and worse as the end of the five minutes would arrive and I'd find myself trying to keep myself calm. My doctor told me not to come to the hospital unless I had been having contractions for every five minutes for an hour. I decided to try and get into the bathtub ... that definitely didn't help. So, I called my husband and told him what was going on. I was determined to wait that whole hour, although the contractions were getting closer together and more intense. He decided to come home anyway.

After a 45 minute car ride to the hospital and me throwing my legs around the car (it was a pretty amusing sight, I am sure!), we finally made it to triage. Although I had been flipping out because of the pain in the car, I kept my mouth shut the whole time we were in triage. I'm not really sure why; I guess I just noticed none of the other women were vocalizing and I didn't want to be "that" crazy lady. (Not that I think you're crazy if you do scream during labor ... I'm just weird and really shy!) We found out that I was already dilated 4 centimeters and that they were going to give me my epidural as soon as a room got cleaned up. Yes!!!

Speaking of the epidural, I really wish I would have had some childbirth prepartion beforehand. I was planning on getting an epidural and I also knew I wasn't a big baby with pain, so I figured I would be okay on the way to the hospital. Instead, I panicked and the pain was miserable. The only thing that worked was breathing and concentrating on staying calm. That was really the only way to get through it. & Maybe it's just common sense to breathe and stay calm, I don't know. All I know is that I wish I would've been more prepared for that instead of depending on the epidural. This was especially needed once the epidural wore off at 8 centimeters.
I had been in labor for just a few hours when I began to feel the pain again. I hadn't felt anything up to that point after getting my epidural. I was awake, talking, watching tv, eating popsicles, and just waiting it out. However, the pain did come back and this time it was even worse. My nurse tried to give me some more medication to help ease the pain, but nothing was working. At this point, my husband got all of the visitors out of the room (I hated feeling like it was some show for me to be in pain ... or having people trying to help me and say "it's all for a good cause!"). It was just us.

I don't know how long Joshua and I were alone, but those few moments were special. I couldn't really talk, I just laid on my side and took deep breaths with every contraction. Joshua held my hand and breathed with me. He says he felt so helpless, because he didn't really know what to do for me. My husband was so perfect that day, though. He did an amazing job coaching me and just being there with me.

Before I knew it, we had my doctor and nurses in the room getting ready for me to push. I was in so much pain still, so my nurse told me to start pushing to see if that would help. It wasn't an epidural, but it gave me relief. & That is where I found my control with the situation. I began pushing and went on for about two hours. In between contractions, I would just throw my head back and almost fall asleep, because I was so tired. However, as soon as I got an opportunity to push, I did it. I was one determined lady!

While I was delivering, the people I had in the room with me were amazing. Joshua, my doctor, and my nurses were all there to support me and encourage me. We even had nurses coming in that weren't invovlved to tell me how good I was doing. The staff at that hospital was certainly amazing. Of course, the best coach there was my husband. :) He was awesome.

I had wondered if I was going to use a mirror or not, because I didn't want to be grossed out. However, in my experience, nothing phases me once I have had people looking at my junk all day. Once they said my sweet girl had dark hair, I couldn't miss another moment. Seeing her in the mirror as I
pushed gave me motivation and reason to keep going, although I was getting very tired. I was so excited to meet her.

The first moment I saw her was a shock to me. I had just asked the doctor how much longer she thought I had and she said about 8 minutes. I figured she was just giving a random number, because I had already asked the same question about 100 times. But, with one more big push, Constance was there. I heard her little cries as they cleaned her off and I was so amazed at what had just been done.

They handed Constance to Joshua, who got to hold her first. He looked so sweet and perfect with her, a total natural. He told her that he loved her and that Jesus loved her too.

Then came the moment when I got to hold her. I was a little nervous about it, but once she was in my arms it just felt perfect. All of the craziness of the world and everything around me just slowed down. She was my sweet little girl from the Lord and I was so thankful. I gave her little kisses and told her I loved her. I was so smitten with my sweet baby Constance.

That was the day my life changed. The rest is an amazing life that God gives me the grace to live each day as her Mommy. I would give birth to her amillion times over, even with all of the pain and craziness of labor.
Happy Family!
`