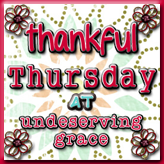 What am I praising God for this week:
1. My hubby let me sleep in today.
2. Knowing baby boy will be here soon.
3. Trusting HIM for a good, safe delivery.
4. My daughter being a big helper each day.
5. The transitions of the Sunday School rooms are completed!
6. Watching my little girl sing Bible songs! :) I have the video on my blog! :)
8. Fellowship of good friends!
9. Fun group of kids at youth group!
10. LOVE and GRACE from HIM!