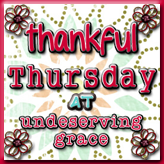 I have anxiously been waiting for Thursday this week! Here is what I am thankful for this week:
1. 7am 3/24 I WILL BE INDUCED! Going to meet my little blessing and I am so excited and ready.
2. Made welcome home signs for baby with my daughter! It was fun and she is so excited.
3. I feel so much support from all my family and friends.
4. HEALTH! I know God's hand is upon our lives and I know he will get me through the labor.
5. Thankful I did not go into labor last night when we had a blizzard! That would have been a bit scary and frightening trying to reach the hospital!
Look for pics and an announcement of our baby boy! :)