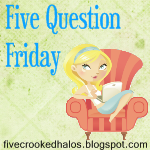 The Questions
1. What is your favorite Easter tradition?
I am looking to start some new traditions. We do Easter Eggs, we go to church on Sunday and we do an egg hunt there.
2. Are you a "shower" or a "long, hot bath" kind of person?
Depends if I have long enough time I love hot bath's.
3. Can you

parallel

park and if so when is the last time you did it?
Yes, but I get nervous! I dont remember the last time I needed to do it.
4.
What is your

favorite

Easter candy?
5.
Easter: do you go all out with the Easter Bunny or focus on the religious part of the