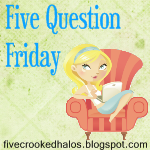 1.
If you could buy any car, money not an option, what would it be?
hmmm...This is tough because part of me wants a sweet sporty car and part of me wants a nice SUV. I think I would go with an SUV. Not sure which one... one that is good on gas mileage unless that does not matter either.
2.
What was your worst first date ever?
Worst date ever??? I think it would be a movie date at a friends house and we ended up breaking up that evening. It was for the best!
3.
How old were you when you fell in love for the first time?
Too young... I was a teen i think 16.
4. W
hen was the last time you reconciled your checkbook?
Years... I just do online banking.
5.
If you were going to fashion a "Wanted" Ad for a best friend, how would you word it?
I dont think I would do a "wanted" ad. I might ask my hubby for help if I did.