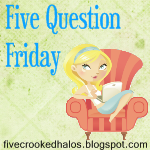 1.
What is your favorite sign of spring?
I love seeing the snow disappearing but also hearing the birds!
2. W
hat was your best birthday ever?
I think my best birthday was in 2007 when I was pregnant with my daughter and it was a beautiful day and we walked and went to many cute shops in a fun town.
3.
What is your favorite dessert?
4.
What is the best excuse you've ever used to get out of a ticket?
I never had to give an excuse... one time it was my bday and I got pulled over but just got a warning.
5.
Do you wake up before your alarm, with your alarm, or after hitting snooze several times?