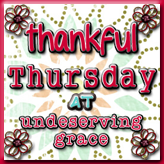 Praising HIM this week for:
1. HE IS RISEN! Easter was fantastic!
2. Loosing the weight from pregnancy... now need to start firming up!
3. Found a great deal on pants at Goodwill! :)
4. Friends and family still loving on us and inviting us over for dinner.
5. I have a baby shower on Friday! YIPPEEE!!!