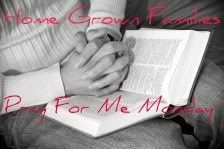 So I think the biggest thing I could use prayer for this week is HEALING.
Healing for my body from surgery (c-section) The incision is still very tender. Also, the breast tenderness and any other things that come along with giving birth.
Along with my body I also need healing emotionally from having a c section... I really did not want to have a c-section and I have had several emotions/pain.
Also rest, as a mom to a 3.5 year old and a newborn I need the best rest I can get.
And lastly, my family. We are all adjusting to baby boy!
THANKS for your prayers!