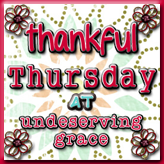 2. a church family who has been bringing us meals during this transition period.
3. Friends who are taking my daughter on play dates so me and baby can catch up on sleep.
4. My hubby bought me my dream ring!!!! :) Kinda a bday and 5 year wedding anniversary gift! :)
5. Knowing that my God has his healing hands on me!
6. I LOST 26 pounds already!!! (that is what I gained... I still look pregnant as my uterus is still shrinking.)
7. Breast feeding is becoming less painful now and the blocked duct is gone... still waiting for the milk supply to even out more.
8. My daughter helped clean her room yesterday.