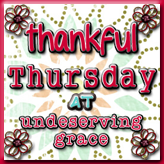 Here is what I am THANKING God for this week:
1. My friends who have been taking my 3 year old and letting me get some good rest.
2. My husband for taking me out on Sunday evening. I LOVE HIM
3. My 2 kids... it is still strange saying my 2 kids. I LOVE THEM BOTH SO SO MUCH!
4. The snow melted quickly after a strange April snow storm!
5. EASTER-JESUS thank you for dying for me.