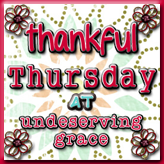 This week I am Praising GOD for:
1. My hubby fixing his motor bike for real this time.
2. girl scout cookies
3. The baby shower my church threw me! :) Lots of blessings!
4. healing I am receiving from this cold.
5. The great deals I got at garage sales today! :)
What are you praising HIM for this week?