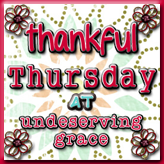 Here is my list this week on what I am giving thanks for:
1. MY MARRIAGE! I love my husband and I know he loves me! What a wonderful gift from GOD!
2. The yummy pot roast I just ate! mmmmmm
3. My new patio furniture!
4. Tonight is the last night of AWANA until fall. I am in need of a break! IT was a great year!
5. Getting back into working out! Lord keep me motivated! :)
WHAT ARE YOU PRAISING HIM FOR THIS WEEK?