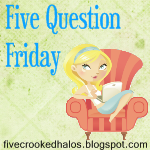 1. Vow renewal ceremonies-yay or nay?
Sure! If a husband and wife want to celebrate many years together and throw another party and renew vows go for it! :) I think it is romantic and fun!
2. What sound/s annoy you the most?
Lets see, I think some whistling is really annoying but yet I love to whistle. Of course the shivers down the back scratching on a chalk board! EEEK
3. If you had to pick, would you have only all boys, or only all girls for kids?
Totally unfair question because I have one girl and one boy. I could not imagine life without either of them!!!
4. Do you believe in alternative medicine?
I believe in praying even before any medication!!!
5. Would you take a family member's children and raise them if they needed it?
YES! I love children and I think I raise my own children very well and would want to be there for my family. Every situation is different but I think we would say yes.